TRAINING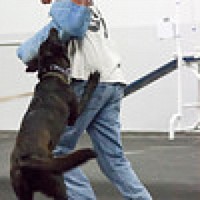 Black MALINOIS audrick
We offer complete training packages customized to your needs .
So there is no set price . After a full evaluation which includes one training session , your needs are assessed and a Price determined . Always affordable , always based on what you personally need and what your goals with your dog are.
Any breed. , any size . Do you want a behavioral problem addressed , or just want plain obedience, maybe you need a tune up on the things your pup or dog already have been taught?
Maybe you want to go session by session and pay as you go . Or you might want a full obedience to protection package . It's up to you .
The first visit is an evaluation and session , plus a discussion of what you want to do and how .
Schedule availability and finances are then discussed . Be prepared to spend more than an hour.
Please make sure your dog is current on all dhots , and flea and tick control
You will bring the dog to the trainer . He will not stay here as it is vital the owner do the homework at home .
If the trainer needs to travel costs will be discussed at the first evaluation .
Payment is expected before each session begins .
On package arrangements payment is required in full before starting the program .
There are no refunds if you just cancel.
Please contact the trainer for pricing details at
Trainer Tom
.please text (239-565-4841)
AND. Please be sure you say you are referred by Reinwald Kennels
.