OUR BELGIAN BOYS & FEMALES
Our boys
High quality Black MALINOIS and DUTCH shepherds at stud .

Go to face book to see more about them .
Reinwald Kennels ( pet services )
You may contact us on the contact form on this web site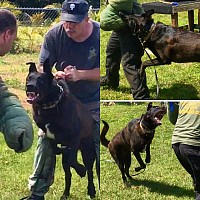 Reinwalds little Blazer BRN 26312
Little Blazer is available for sale . He is a powerful young dog that requires a skilled handler. He is also a calm dog and excellent in the home .
Being young he can be molded into many directions. Only contact if you are serious and can aford a high quality dog . He is not being sold as a breeder.
His BRN IS 26312
Please go to face book to see more .
Reinwald Kennels
Go to contact form on this site to e mail us
You can also PM Reinwald Kennels on face book